High Heat resistant clear tempered laminated glass with plastic PVB interlayers for window glass
DESCRIPTION
T

he Heat Insulated Laminated Glass is created by adhering two or more pieces of glass sheets holds together with our new type of heat-proof PVB film. This performance PVB film can be reduced over 80% the infrared transmittance, control glare and blocked over 99% of the UV rays. It can be designed to replace standard window glass with heat insulated laminated glass to be kept on energy-saving properties. Therefore, it is one of best solutions to save energy in all types of domestic, commercial and public buildings.
LANIMATED GLASS'S ADVANTAGE
Extremely high safety:
The PVB interlayer withstands penetration from impact. Even if the glass cracks, splinters will adhere to the interlayer and not scatter. In comparison with other kinds of glass, laminated glass has much higher strength to resist shock, burglary, burst and bullets.
Control glare and Save Energy: While skylights and the like provide natural light, they can cause glare and too much heat. It can be designed to reduce the solar or heat energy transmittance through the laminated glass, automatically adjusts sunlight and natural daylight transmittance passing through to the inside of the building, to reduce interior glare for making occupants more comfortable, and also prevent the heat to come inside, which can be saved air conditioning costs. This new type laminated glass provides the best solution.
Sound control: The PVB film have good damping effect on sound waves, therefore laminated glass has the ability to prevent unwanted noise with its sound reduction index, which is higher than that of monolithic glass that has the same thickness.
Ultraviolet resistance: UV rays cause the fading of furnishing. The interlayer can block 99% UV rays and prevents the furniture and curtains, other items indoors from fading effect.
SPECIFICATION
PVB Thickness

0.76mm

PVB Width

600 - 2500mm

Used Range of Temperature

-20

ºC

to 80

ºC

Roughness Rz

15 -70

Moisture content

(%)

0.35 - 0.55

Heat shrinkage rate

(

60

ºC

/15min) (%)

< 8.0

Pummel value

< 7

Light transmittance

(%)

> 75

Blocked Infrared-light

(%)

> 86

Blocked UV-light

(

%

)

> 99

Solar Heat Gain Coefficient (SHGC)

< 0.49

Tensile strength

(

MPa )

> 20.0

Tensile elongation

(% )

> 200

Yellowness index

(%)

<

10
TEST RESULT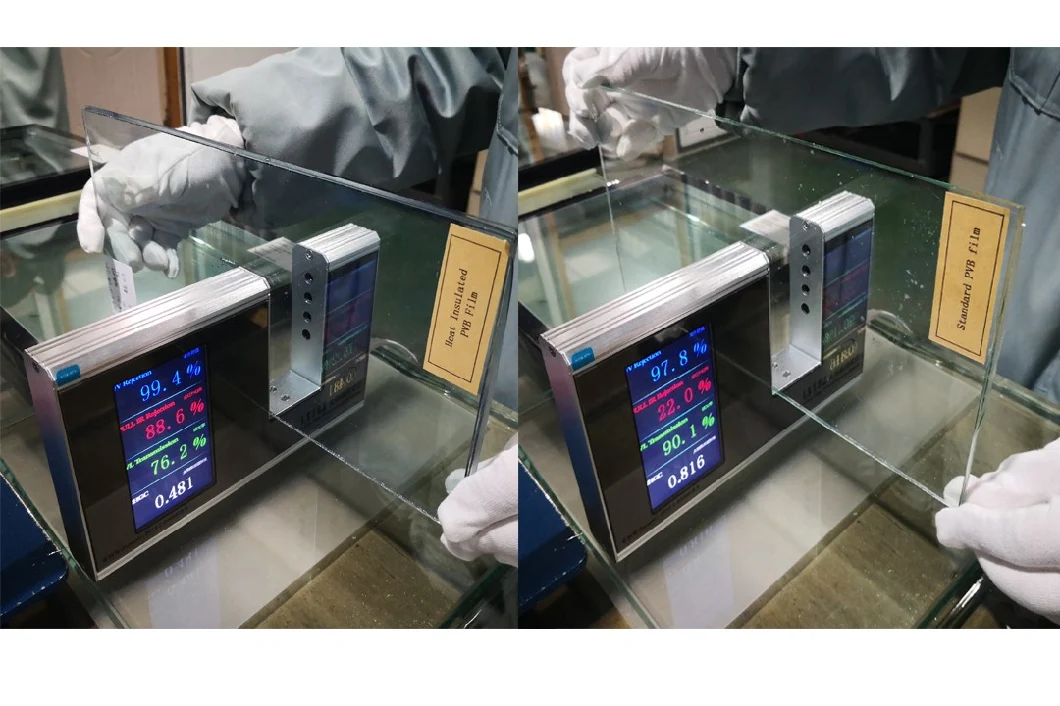 | | |
| --- | --- |
| Heat Insulated Laminated Glass | Standard Laminated Glass |
| 2mm Clear glass + 0.76mm PVB film (Heat-proof) + 2mm Clear glass | 2mm Clear glass + 0.76mm PVB film (Standard) + 2mm Clear glass |

Mr. Wang