Kaiyuan fire pump equipment electric driven fire pump


Product overview
XBD series Kaiyuan fire pump equipment electric driven fire pumps are designed strictly in accordance with ISO2858 world standard.
GB/T6878.2-93 Chinese fire pump standard with years of pump production experience. As the second generation of highly effective energy-saving products,
It is also an idea product to replace regular pumps such as SG piping horizontal pump, IS horizontal pump, D multistage horizontal pump, etc. The flow range is from 1.5
to 1600m³/h and the head range is from 5 to 150meters. It includes several types, such as basic type, flow type, cutting type, etc.

Product Features
1. High efficiency and energy saving
Adopt CFD (computational fluid dynamics) to analyze and calculate the relationship between pump pressure distribution and velocity distribution.
Optimize the pump flow channel design to ensure a highly efficient hydraulic line and highly improved efficiency.

2. Easy to mount and maintain
The inlet and outlet of the vertical pipeline structure pump can be connected to any location and direction in the pipeline like a valve, which makes the installation and maintaince very easily.

3. Stable, safe and reliable running
Motor and pump share the same shaft with direct coupling and high concentricity, which ensures a stable, safe and reliable running.

4. Bearing
Both floating shaft bearing for motor shaft below Y (Y2, YX3) 280 and fan end shaft bearing for motor shaft below Y180 adopt the sealed shaft bearing. Under normal condition, motor shaft bearing is free of maintenance.

5. Mechanical seal
Basic part of the mechanical seal generally adopts the rubber corrugated pipe structure to replace the O-ring line seal with rubber dual face seal as the shaft seal, which improves the sealing effect when the medium is clean water.
Product structure
1. Pump head, ductile cast iron
2. Shaft: #45 steel
3. Impeller, ductile cast iron, SS304
4. Casing, ductile cast iron
5. capacity:4-1200m3/h
6. head:8-150m
7. speed:2900, 1450r/min
8. power:0.75-250kW
9. flange:25-350mm
10.medium temp.:≤80ºC

Product photo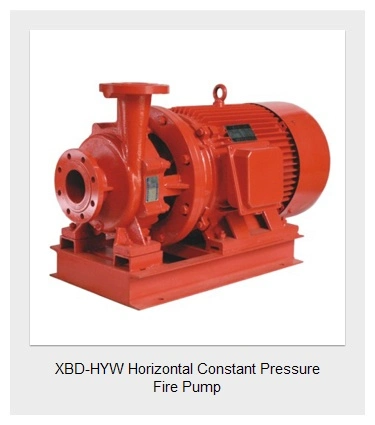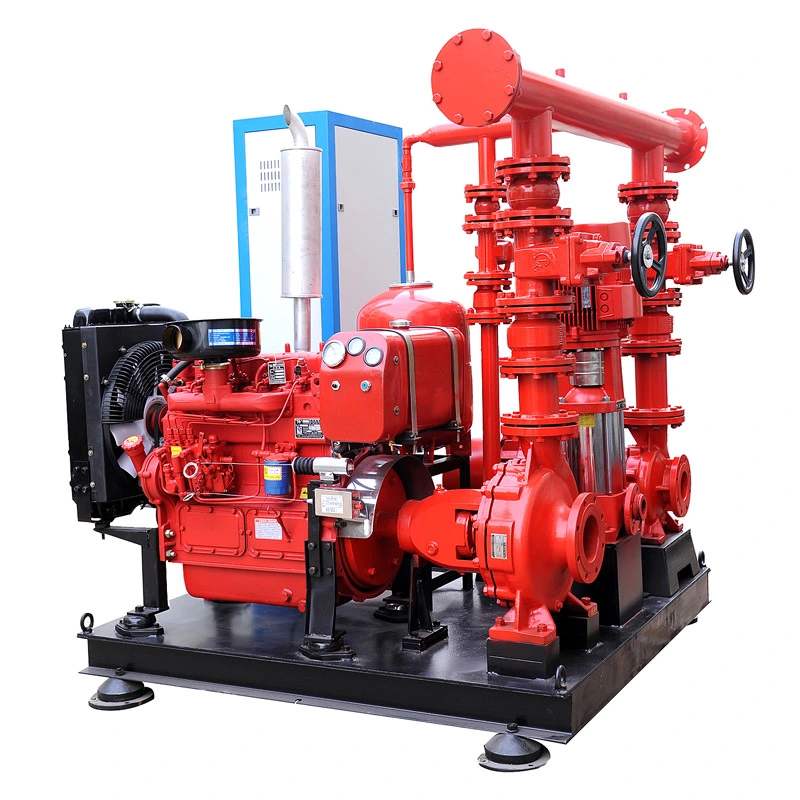 Product Application
KYL (KYW) series vertical Centrifugal Water Pressure Pump is used to deliver clear water and other liquids similar to water in physical properties for industrial and cities water supply and drainage, high buildings booster water supply, garden irrigation, fire-fighting booster, remote water supply, warming systems, cycle booster of cold and hot water in bath rooms as well as for industrial equipments. The medium temperature should be lower than 80ºC.
KYLR (KYWR) series vertical hot water Centrifugal Water Pressure Pump is used for the hot water booster cycle systems and the heat transport systems in heat-stations, residual heat utilization, metallurgy, chemistry, tactile, wood-processing, paper-making, industrial boilers. The medium temperature is lower than 120ºC.
KYHL (KYHW) series vertical chemical pumps is used to transport the corrosive liquids containing no solid particle. The viscosity of liquid is similar to water. It can be used in light and textile industries, petroleum, chemical in
Fire fighting system, electric driven fire pump, as one important part of fire pump equipment.
Technical Parameters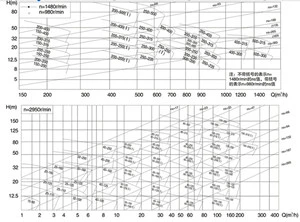 Model Meaning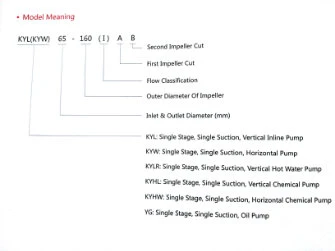 KYL(KYW)65-160(I)(A/B)
KYL: Single Stage, Single Suction, Vertical Inline Pump
KYW: Single Stage, Single Suction, Horizontal Pump
KYLR: Single Stage, Single Suction, Vertical Hot Water Pump
KYHL: Single Stage, Single Suction, Vertical Chemical Pump
KYHW: Single Stage, Single Suction, Horizontal Chemical Pump
YG: Single Stage, Single Suction, Oil Pump
65: Inlet & Outlet Diameter (mm)
160: Outer Diameter Of Impeller
(I): Flow Classification
A: First Impeller Cut

Other XBD fire-fighting pumpsets
Company profile
Shanghai Kaiyuan Pump Industrial Co.,Ltd. is one of the leading pump manufacturers in Shanghai, China. specializing in producing all kinds of water pumps with various and complete specifications. We have two production bases both of which are located in Fengxian district.

Our company has passed the Test Certification issued by Shanghai Mechancial & Electrical Testing Center and the evaluation of ''ISO9001:2008'' Quality Control Ceritificate. With intergrated features of scientific research, development, manufacturing, sale and services. Shanghai Kaiyuan is very unique in the pump producing field and enjoys a high reputation.