Lightweight Fireproof EPS Foam Concrete Sandwich Panel For Residential/Commercial Buildings
EPS cement Interior Insulated Wall Panel is fireproof, sound proof, heat insulated, warm preservation, very nice performance. 100% non-asbestos, surface board is calcium silicate board or fiber cement board, core is filled with cement, EPS ( Expanded Polystyrene foam ), sand and some additive. One time compound.
And also it is simple on installation, save 30%-40% time and cost, make more profit. Lightweight, energy saving, anti-quake, increase the space, and can be reused when refurbishing in the future.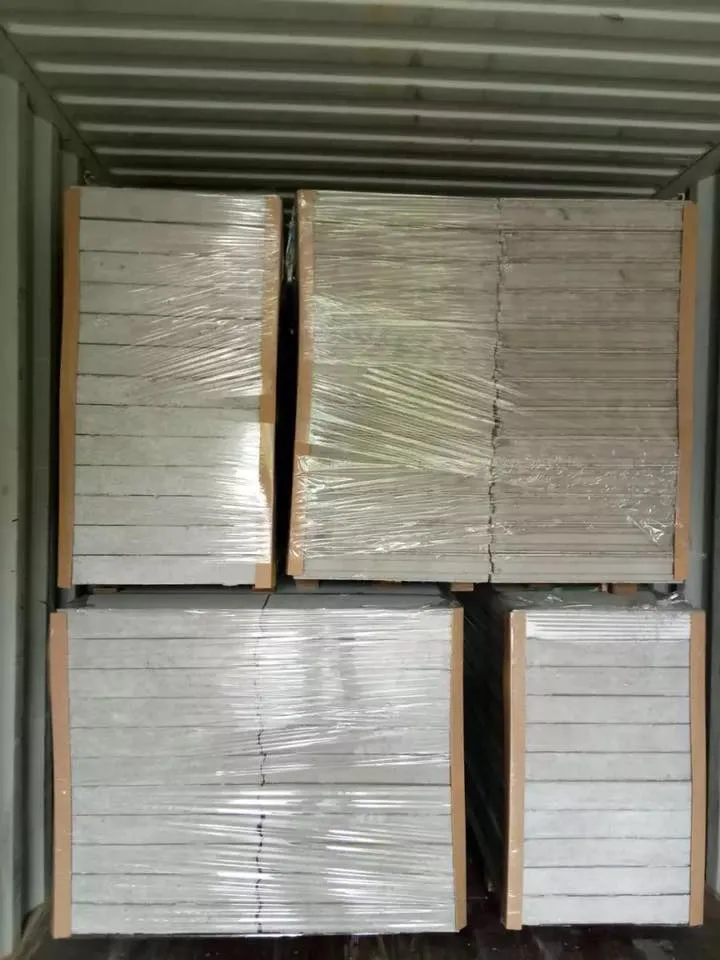 Advantage of Sandwich Panel
Energy-saving, environment-friendly
Green and environment-friendly, non-harmful substance, no radiation, reusable, no construction waste, widely used in various places.
Lightweight and economy
The core material of EPS cement exterior wall panel is filled with lightweight EPS. The volume-weight is about 600-800 kg/m3. Freely plastering and the weight is only 1/6 of the traditional wall.
Fireproof
The non-inflammability of the Ojunda board can be reached national A level standard. Under the high temperature of 1000 degrees, the fireproof feature can last four hours, do not radiate toxic gasses.
Waterproof and wetproof
The water container is made of Ojunda material without any waterproof plaster with no leakage at all. The tests show that the material has good waterproofness and dampproof. Ojunda material can be used in the wet area such as kitchen, toilet, and basement.
Anti-pressure, anti-quake and anti-impact
Because of fabricated construction, 3-in-1 structure and using tongue and groove to join panels, the anti-pressure, anti-quake and anti-impact all meet the national standard.
Sound insulation
Good sound insulation, sound absorption and noise reduction functions. For example, the amount of sound insulation is up to 40dB with the 90mm thickness of the wall board, which is 2 or 3 times than the traditional wall.
Simple construction, high efficiency
Dry work, fabricated construction. EPS cement sandwich panel can be arbitrary cut according to specification. During the construction of transportation concise, pile up, no need of mortal health file, greatly reduction the time duration, and the calibration material, reducing the low construction waste. Easily transported, clearly stack and no mortar batch file largely shorten the construction period. Besides, the construction waste can be reduced by the lowly loss rate.
Heat preservation
Wall materials mainly are made from environmental protection and energy saving heat insulation material. With a good heat insulation and preservation function, it can keep the indoor temperature at a stable range and make the environment much more comfortable.
Spiking and stickability
EPS cement sandwich panel can be nailed directly and install expansion bolt to hang heavy loads, such as TV, air conditioner, water heater. single point of hanging strength is above 45kg.
Easier for decoration
can be decorated by ceramic tile, wall paper, wood panel and other materials due to the smooth and ash-free features.
Increased the usable area
The thickness of the board is between 50mm-200mm. It largely saves the construction space compared with the traditional block.
Reusable
Can be reused in the movable interior wall such as supermarket, office, etc. The lightweight energy-saving wall board can be reusable. Dismounting and installation are simple and improved usage rate and economy saving. Also it has no construction waste and no affect other people's normal work.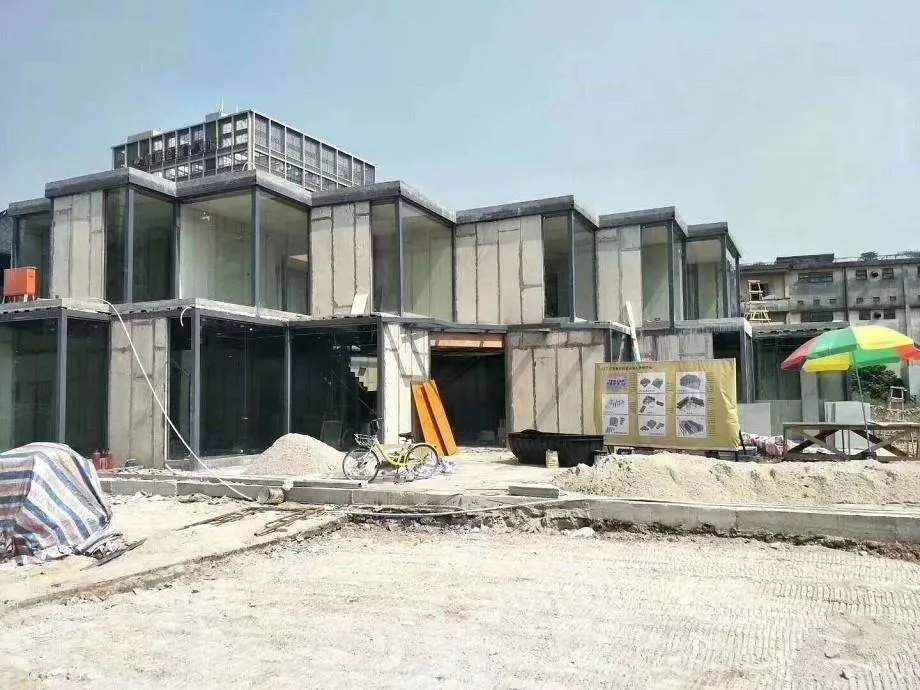 Applications:
Exterior Walls
Interior Partition Walls
Roof System
Floor System
Prefabricated Houses
Residential Buildings
Industrial Buildings
Commercial Buildings
Parameters:
Performance

Attribute

Thermal conductivity(BS 874: Part 2: 1986)

0.221 W/mK

Flexural Strength

4.27 MPa

Flexural Strength(transverse)

4118N

Moisture Movement

0.06%

Moisture Content

9%

Resistance to continuous heating

80 °c

Surface Alkalinity

pH 7-10

Non-combustibility (face Boards)

BS EN ISO 1182: 2002




BS476: Part 4




GB8624-1997, Grade A

Heat of conbustion (face boards)

BS EN ISO 1716: 2002

Building regulations classification (face boards)

Euro Class A1

Fire rated partition (Reaction to fire)

4 hour FRP




BS EN 1364-1




BS 476: Part 22




GB/T9978

Water tightness to ASTM C1185

No droplets observed behind the panel, Test of 24 hours at 250 mm water

head

Partition stiffness-heavy duty grade




(BS 5234; Part2: 1992, Annex A)

Pass

Resistance to structural damage by multiple impacts from a large soft body




-heavy duty grade( BS 5234; Part2: 1992, Annex E)

No collapse of dislocation

Surface damage by hard body impact- heavy duty grade(BS 5234; Part2: 1992, Annex B)

Pass

Effects of door slamming-heavy duty grade




BS 5234; Part2: 1992, Annex B

Pass

Resistance to crowd pressure-heavy duty grade




BS 5234; Part2: 1992, Annex G

No collapse of damage

Sound Insulation




- 60 mm thick




- 75 mm thick




- 100 mm thick




- 120 mm thick




- 150 mm thick




38 dB




40 dB




42 dB




44 dB




46 dB
Contact Freda
Freda Lin
Xiamen ZhongJingTai Building Materials Co,. Ltd
Website: http://zjteps.en.made-in-china.com